Friso fan S. 'Sport' Vb x Ruurd
Dam: Loret van Geyersan Bb1 Stb Pref *6
Born: 12/2005
Height: 1,63 cm
Foal Premie: 2nd
2009 Inspection: Star 2nd Premie
2010 Inspection: V. Kroon 1st Premie
2013 Inspecton: IBOP 2013: 79.5 Riden by Jolanda Schreuder qualifying her to become KROON.
2014 Inspection: Retained 1st Premie
Pandora is a tall, modern Friesian mare with impressive movement and conformation.  She became Kroon in February 2013 after achieving 79.5% for her IBOP test riden by Jolanda Schreuder.  Her dam has produced 6 top show horses with Star status out of her 8 foals, and thus Loret was awarded Preferent status. Loret is the first Byboek 1 Preferent mare in SA.  Pandora is currently in foal to Tjalf 443 'Sport' for the 2020/2021 season. One of the best brood mares at Doorndraai, we hope the combination with Tjalf 443 'Sport' will produce yet another Doorndraai Champion.
Siblings:
Bakkies van Doorndraai Bb1 Rb Star (Ritse 322) – Sold
Yster van Doorndraai Bb1 Vb Star (Ritse 322)– Sold
Roland van Doorndraai Bb1 Vb Star (Tsjerk 328)– Sold
Mona-Lisa van Doorndraai Bb1 Stb Star (Tsjerk 328)
Lomo van Doorndraai Bb1 Vb R (Adel Vb)– Sold
Emma van Doorndraai Bb1 Stb Star (Doede) – deceased
Wiebe van Doorndraai Bb1 Vb H(Brandus 345)– Sold
Offspring: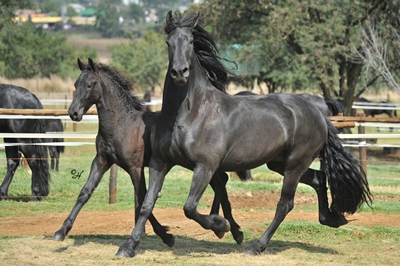 Show Results
2017 FPSSA National Show
Reserve Champion Crown Mare Under Saddle
3rd Crown Mare In Hand
Older Results
Reserve Champion Kroon Mare In-Hand 2013 Parys Horse & Wine Festival
Reserve Supreme Champion Mare FPSSA National Show Parys 2009
Reserve Champion Mare FPSSA Parys 2009
1st place, Star Mares 3-5 years FPSSA Parys 2009
Champion Filly under 3 Years Pieketberg Show 2008
1st place, Fillies 2-3 years FPSSA 2008
Reserve Champion Junior Filly FPSSA 2008
1st place, Fillies 1-2 years FPSSA 2007
Reserve Champion Junior Filly FPSSA 2007