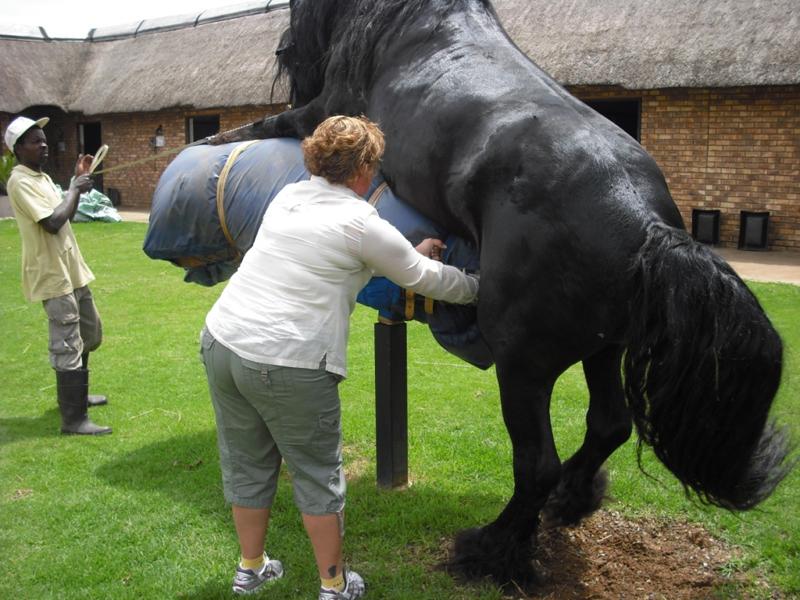 The Doorndraai Lab received an upgrade in November with the visit of Ancilla Bruggink who came all the way from The Netherlands to help us start doing all our AI's and semen collection ourselves. Ancilla works at the Stud-Farm Het Swarte Paert where she is in charge of managing and collecting semen from the stallions Jasper 366 and Anders 451, she also does all the AI's for this station.  During her visit Ancilla helped Altie and Marlise to understand all the 'In's and Out's' of semen collection and Artificial Insemination and this will be the first season where we will be doing all our own Lab Work.
The Doorndraai Lab is now fully equipped with a phantom, centrifuge, digital microscope capable of taking photo's & video, rollerbank and semen counter, we can now dispatch fresh chilled semen to anywhere in South Africa.  This is the first opportunity mare owners have to inseminate with fresh Studbook semen which has a much higher success rate than with imported frozen semen.
We have had a very successful first season with 17 out of our 20 mares confirmed pregnant this month and still one to scan. That is a phenomenal 85% success rate!
For more information on bookings please contact Altie Clark on 083 299 1356.