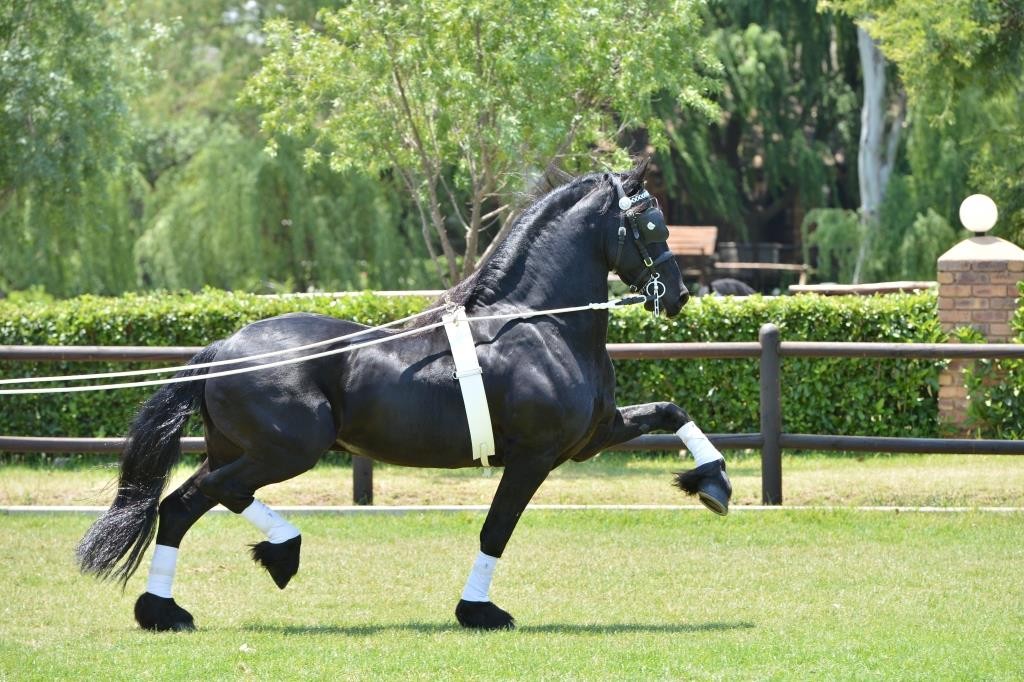 Tjalf 443 'Sport' has unlimited breeding permission and has been approved on offspring by the KFPS at the end of 2014.
Tjalf 443 Sport's long awaited arrival came in December 2009 when he stepped onto African soil only to have his move to Doorndraai delayed by quarantine. When he at last arrived he settled down quickly, with his gentle nature and willingness to work, making him a special addition to Doorndraai. We have a number of 'Star' offspring of Tjalf.  See our 'For Sale' section for a list of horses available.
South African Show Results:
Tjalf has been retired from the Show ring.
2017 Friesian Horse & Wine Show
Champion Stallion with Offspring
2015 FPSSA National Show
Champion KFPS Studbook Stallion over 13 years In-Hand
2014 FPSSA National Show
Champion Studbook Stallion In-Hand
2013 FPSSA National Show
Champion KFPS Studbook Stallion In-Hand

Champion KFPS Studbook Stallion Single Harness

Supreme Champion Single Harness
2013 Horse of the Year
FPSSA Champion Single Harness

All breed Supreme Champion Single Harness
2013 Parys Horse & Wine Festival
Champion Studbook Stallion with KFPS Breeding Permission In-Hand

Champion Studbook Stallion with KFPS Breeding Permission Single Harness Universal
Supreme Champion Stallion Single Harness Universal
2012
Pretoria Show:
Champion FPS Studbook Stallion with a breeding Permission Single Harness
FPSSA National Show:
Champion FPS Stallion with a Breeding Permission Single Harness

Champion Single Harness
Horse of the Year:
FPSSA Champion in Single Harness
HOY Supreme Champion Single Harness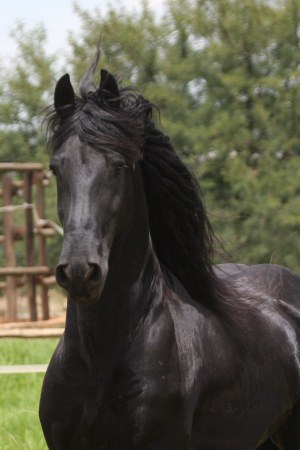 Offspring
Tjalf 443 Sport has the following offspring at Doorndraai:
Madonna van Doorndraai filly out of Tjitske Welmoed GT.
Maveric van Doorndraai colt out of Delilah of Millford
Milasandre van Doorndraai filly out of Edelweis van Doorndraai
Lood van Doorndraai colt out of Pandora van Doorndraai
Kayla van Doorndraai filly out of Nella by carrier mare Serabi van Doorndraai
Leila van Doorndraai filly out of Nella by carrier mare Anneke van Doorndraai
Harley van Doorndraai colt out of Neenke fan Bokkum
Darius van Doorndraai colt out of Hiske fan Bokkum – deceased
Derrick van Doorndraai colt out of Khloe van Doorndraai
Boromea van Doorndraai colt out of Yvonne van Doorndraai – sold
Viggo van Doorndraai colt out of Neenke fan Bokkum
Haike van Doorndraai colt out of Yvonne van Doorndraai – sold
Ida D van Doorndraai filly out of Deweke van Doorndraai
Egritte van Doorndraai  filly out of Ingrid van Doorndraai
Elma van Doorndraai filly out of Alma van Doorndraai – sold
Evonne van Doorndraai filly out of Yvonne van Doorndraai – sold
Elsje van Doorndraai filly out of Mintsje van Doorndraai
Harrold van Doorndraai colt out of Hadassa Woltsje GT
Dainty van Doorndraai filly out of Heinsy van Doorndraai
Evanka van Doorndraai filly out of Katinka van Doorndraai
Astrid van Doorndraai filly out of Ingrid van Doorndraai
Amali van Doorndraai filly out of Tamali
Adelweis van Doorndraai  filly out of Edelweis van Doorndraai – sold
Anika van Doorndraai filly out of Wanika G. – deceased
Area van Doorndraai  filly out of Harmkje fan Bokkum
Anne Nypcke van Doorndraai filly out of Nypcke fan 'e Visscherwei
Woest van Doorndraai Colt out of Anneke van Doorndraai – sold
Xerxes van Doorndraai Colt out of Ingrid van Doorndraai – sold
Zane van Doorndraai Colt out of Tamali – sold
Ydelweis van Doorndraai Filly out of Edelweis van Doorndraai
Zea van Doorndraai Filly out of Uma van Doorndraai
Zadassa van Doorndraai Filly out of Hadassa Woltsje G.T. – sold
Zac van Doorndraai Colt out of Yolandi van Doorndraai
Warrick van Doorndraai Gelding out of Neenke fan Bokkum – sold
Zappa van Doorndraai Colt out of Wanda Hester – sold
Walt van Doorndraai Colt out of Pandora van Doorndraai – deceased 
Zona van Doorndraai Filly out of Mona Lisa van Doorndraai
Zelilah van Doorndraai Filly out of Delilah of Millford – sold
Yale van Doorndraai Filly out of Lenka – deceased
Ursula van Doorndraai  Stb Star out of Yolandi van Doorndraai
Victoria van Doorndraai Vb M out of Deweke van Doorndraai – sold
Tabitha van Doorndraai Bb1 Vb M out of Anneke van Doorndraai
Temma v Doorndraai Bb Stb Star out of Emma van Doorndraai – sold
Venessa van Doorndraai Vb M out of Edelweis van Doorndraai – sold
Tauriel van Doorndraai Vb M out of Yvonne van Doorndraai – sold
Tilde van Doorndraai Vb M out of Delilah of Millford
Thorben van Doorndraai Bb1 Vb S out of Rita van Geyerspan – sold
Thorin van Doorndraai Rb out of Mona Lisa van Doorndraai – sold
Tandora van Doorndraai  Bb1 Stb Star out of Pandora van Doorndraai
Quinn van Doorndraai Vb S out of Tjitke B – sold
Sloet van Doorndraai Vb S out of Uma van Doorndraai – deceased
Perseus van Doorndraai Bb1 Vb S out of Wanda Hester sold
Pierre van Doorndraai Vb S out of Yolande van Doorndraai sold
Simson van Doorndraai Vb S out of Delilah of Millford sold
Pricilla van Doorndraai Bb1 Stb out of Mola Lisa van Doorndraai
Sienna van Mooikloof Vb M out of Odillia V
Serabi van Doorndraai Bb1 Stb out of Brecht fan e Oare Ein – sold
Randall van Doorndraai Vb S out of Yvonne van Doorndraai – sold
Potter van Doorndraai Vb Star S out of Neenke fan Bokkum – sold
Ramali van Doorndraai Bb1 Stb Star out of Tamali – sold
Sparta van Doorndraai Bb1 Vb S out of Emma van Doorndraai sold
Sybren van Doorndraai Bb1 Vb S out of Pandora van Doorndraai
Tobias van Doorndraai Rb out of Nypcke fan 'e Visscherwei – sold
Rissa van Doorndraai Vb M out of Aarwen van Doorndraai – deceased
Missy van Doorndraai Bb1 M out of Philippa van Geyerspan – sold
Nadia van Doorndraai Stb M out of Uma van Doorndraai – sold
Natalie van Doorndraai Stb Star out of Nypcke fan de Visscherwei – sold
Octavius van Doorndraai Bb1 Vb Star out of Tamali sold
Oxanna van Doorndraai Vb M out of Mona Lisa van Doorndraai – deceased
Ozzy van Doorndraai Bb1 Vb S out of Wanda Hester – sold
Marita van Doorndraai Vb M out of Destinie van Doorndraai – sold
Mickey van Doorndraai Bb1 Vb S out of Anna Mart van Mooikloof – sold
Nala van Doorndraai Stb Mare out of Brecht fan e Oare Ein sold
Nina van Doorndraai Bb1 Star Mare out of Emma van Doorndraai
Nikita van Doorndraai Bb1 Mare out of Rita van Geyerspan – sold
Max van Doorndraai Vb S out of Lenka sold
Madelief van Doorndraai Bb1 Stb Star M out of Anneke van Doorndraai
Odette van Doorndraai Stb M out of Neenke fan Bokkum sold
Maggie van Doorndraai Bb1 Stb Star M out of Katinka van Doorndraai – sold
Maximus van Doorndraai Rb Star Gelding out of Neenke van Bokkum sold
Orlando van Doorndraai Bb1 Vb Star S out of Pandora van Doorndraai sold
Jak van Doorndraai Vb H out of Yolande van Doorndraai sold
Lennerd van Doorndraai Vb R out of Yvonne van Doorndraai sold
Jason van Doorndraai Vb Star Stallion out of Destinie van Doorndraai sold
Jace van Doorndraai Bb1 Vb Stallion out of Emma van Doorndraai sold
Jeanette van Doorndraai Stb Star Mare out of Wanika G – sold
Janneke van Doorndraai Stb Crown Mare out of Lenka deceased
Lida van Doorndraai Bb1 Star Mare out of Mieke van Doorndraai
Juliet van Doorndraai Bb1 Star Mare out of Rita van Geyerspan – sold
Loes van Doorndraai Bb1 Crown Mare out of Tonja van Doorndraai
Lucinda van Doorndraai Bb1 Stb Star Mare out of Tamali – sold
Jasmin van Doorndraai Stb Mare out of Brecht fan e Oare Ein sold
Lumen van Doorndraai Stb Star Mare out of Nella
Jolanda van Doorndraai Stb Crown Mare out of Uma van Doorndraai – sold
Gustav van Doorndraai Bb1 Star Gelding out of Mieke van Doorndraai – sold
Gabriel van Doorndraai Bb1 Rb out of Taryn van Doorndraai – sold
Lourens van Doorndraai Vb Star Gelding out of Nypcke sold
Heinsy van Doorndraai Bb1 Stb Star Mare out of Katinka van Doorndraai
Ivory van Doorndraai Stb Star Mare out of Mona-Lisa van Doorndraai
Karien van Doorndraai Stb Crown Mare out of Neenke van Bokkum
Gallery
Pedigree
Tamme 276

Leffert 306 Pref
Bontsje Stb Star Pref
Heinse 354 Sport
Dimer 285

Ljutske Stb Star
Tjalf 443

Bettie Stb Star Prestm
Jochem 329 Pref
Tjimme 275

Tjimkje Stb Star Pref
Welmoed M. Stb Star Pref
Hearke 254P Sport Pref
Japke Stb Star
Winni Stb Star