Friso fan S. 'Sport' Vb x Ruurd
Dam: Loret van Geyersan Bb1 Stb Pref *6
Born: 12/2005
Height: 1,63 cm
Foal Premie: 2nd
2009 Inspection: Star 2nd Premie
2010 Inspection: V. Kroon 1st Premie
2013 Inspecton: IBOP 2013: 79.5 Riden by Jolanda Schreuder qualifying her to become KROON.
2014 Inspection: Retained 1st Premie
Pandora is a tall, modern Friesian mare with impressive movement and conformation.  She became Kroon in February 2013 after achieving 79.5% for her IBOP test riden by Jolanda Schreuder.  Her dam has produced 6 top show horses with Star status out of her 8 foals, and thus Loret was awarded Preferent status. Loret is the first Byboek 1 Preferent mare in SA.  Pandora had a stunning colt by Anders 451, Rohan van Doorndraai, that became the Reserve Supreme Pre Junior in Hand at the 2023 FPSSA National Show.  She is turning nineteen this year and had her second filly out of 10 offspring by Wiebert 527.  We will attempt to put her in foal to frozen semen at the end of 2023.
Siblings:
Bakkies van Doorndraai Bb1 Rb Star (Ritse 322) – Sold
Yster van Doorndraai Bb1 Vb Star (Ritse 322)– Sold
Roland van Doorndraai Bb1 Vb Star (Tsjerk 328)– Sold
Mona-Lisa van Doorndraai Bb1 Stb Star (Tsjerk 328) – deceased
Lomo van Doorndraai Bb1 Vb R (Adel Vb)– Sold
Emma van Doorndraai Bb1 Stb Star (Doede) – deceased
Wiebe van Doorndraai Bb1 Vb H(Brandus 345)– Sold
Offspring:
Zandra van Doorndraai Bb1 Vb M (Wiebert 527)
Rohan van Doorndraai Bb1 Vb H (Anders 451)
Marx van Doorndraai Bb1 Vb H (Tjalf 443 'Sport')
Lood van Doorndraai Bb1 Vb H (Tjalf 443 'Sport') – sold
Hardus van Doorndraai Bb1 Vb H (Dries 421 'Sport') – sold
Hades van Doorndraai Bb1 Vb H (Dries 421 'Sport') Hades was born from carrier mare Orla of Millford – sold
Walt van Doorndraai (Tjalf 443 'Sport') – deceased
Tandora van Doorndraai Bb1 Stb Star (Tjalf 443 'Sport') – sold
Sybren van Doorndraai Bb1 Vb H (Tjalf 443 'Sport')
Orlando van Doorndraai Bb1 Vb Star (Tjalf 443 'Sport') – sold
Hector van Doorndraai  Bb1 Vb Star (Tjalf 443 'Sport') – sold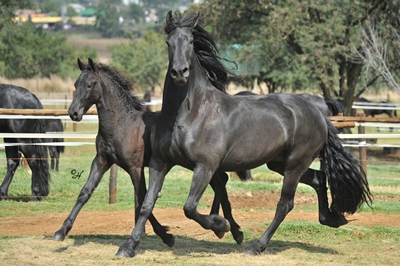 Show Results
2017 FPSSA National Show
Reserve Champion Crown Mare Under Saddle
3rd Crown Mare In Hand
Older Results
Reserve Champion Kroon Mare In-Hand 2013 Parys Horse & Wine Festival
Reserve Supreme Champion Mare FPSSA National Show Parys 2009
Reserve Champion Mare FPSSA Parys 2009
1st place, Star Mares 3-5 years FPSSA Parys 2009
Champion Filly under 3 Years Pieketberg Show 2008
1st place, Fillies 2-3 years FPSSA 2008
Reserve Champion Junior Filly FPSSA 2008
1st place, Fillies 1-2 years FPSSA 2007
Reserve Champion Junior Filly FPSSA 2007