A lot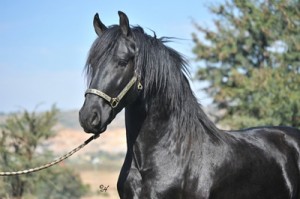 has been happening these past few weeks at Doorndraai.  One of our stallions Zorro van Doorndraai is going to his new home with Tracey Parker where I am sure he is going to get spoilt rotten.  Our first foals are ariving and five of our sixteen mares have allready had their foals, but more about that another time.  The most exciting thing is definately the five new mares to be joining our stud.  Two of them are old friends and three are exciting locally bred horses.
Anna Mart van Mooikloof was sold to Anton vd Bout in 2010 but bought back by us this year after she became Star at the 2011 inspections.  Her little colt Jelle van Jabulani will be joining our herd of youngstock and the friendly little Friso fan S. colt promises to grow into a big friendly stallion.
The second old friend is Katryn van Doorndraai that was sold to Raymond vd Westhuizen in 2007.  The versatile mare is coming back to Doorndraai this month to form part of our breeding program. 
The three newcomers is Lenka, Wanika G and Zabrina van Geyerspan.  These three mares come from well known stud Genius Loci, owned by Willie Saayman and will bring a new dimension to our breeding plans.  With Zabrina allready having 2 star offspring, including Voorlopige Kroon mare Kiara G. we have high hopes of her becoming preferent in the future.  Lenka is another fantastic adition and we look forward to seeing what we can achieve with this mare.  All three are in foal, Lenka with Tjalf 443 'Sport', Wanika G also with Tjalf 443 'Sport' and Zabrina with Friso fan S, and their foals will form part of our 24 strong herd to be looked after by our old faithfull gelding Goliath as soon as they have been weaned. 
Check back soon for more Doorndraai News!