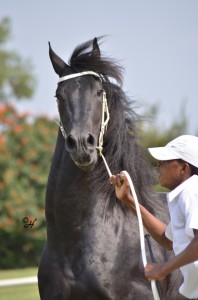 The 2012 Horse of the Year was yet again a huge success for Doorndraai.  It was a very exciting show for us as we took Tjalf 443 'Sport' to compete in the single harness for the first time rather than do a lunch time performance in the carriage.  Jolanda Schreuder also took part in the 'Strictly come Showing' class with Friso fan S. where her experience and Friso's lovely character ensured a good position.  They came second in a big class of 30 horses and it was nice to see other friesians such as Geduld, Reinhoud and Klaus also take part. 
Tjalf 443 'Sport' won the FPSSA Champion Single Harness title and went through on the Sunday to compete for the HOY Supreme Championships and we are very proud that he walked away with the title. The other revelation of the show was Wynand van Doorndraai.  It was his first show under saddle ridden by Alida Copeland-De Jager.  The young stallion has caused a lot of excitement as it was his first show under saddle and also because he came in ahead of a
number of imported stallions to become the Senior Champion Stallion.  Doorndraai is proud that on more than one occasion our locally bred stallions (Troye van Doorndraai, now owned by Benmar Black and also Bart van Doorndraai) have outperformed imported horses with more experience including our own Friso fan S.  Looking forward to the FPSSA National Show taking place in April we can expect another few good and exciting results. 
Full Results:
FPSSA Champion Single Harness
HOY Supreme Champion Single Harness
Wynand van Doorndraai:
1st Stallions over 3 but under 5 In-Hand
FPSSA Senior Champion Stallion In-Hand
5th Stallions under Saddle (14 competitors)
Friso fan S.
Champion Stallion with a FPS Breeding Permission In-Hand
Senior Reserve Champion Stallion
Reserve Champion Strictly Come Showing